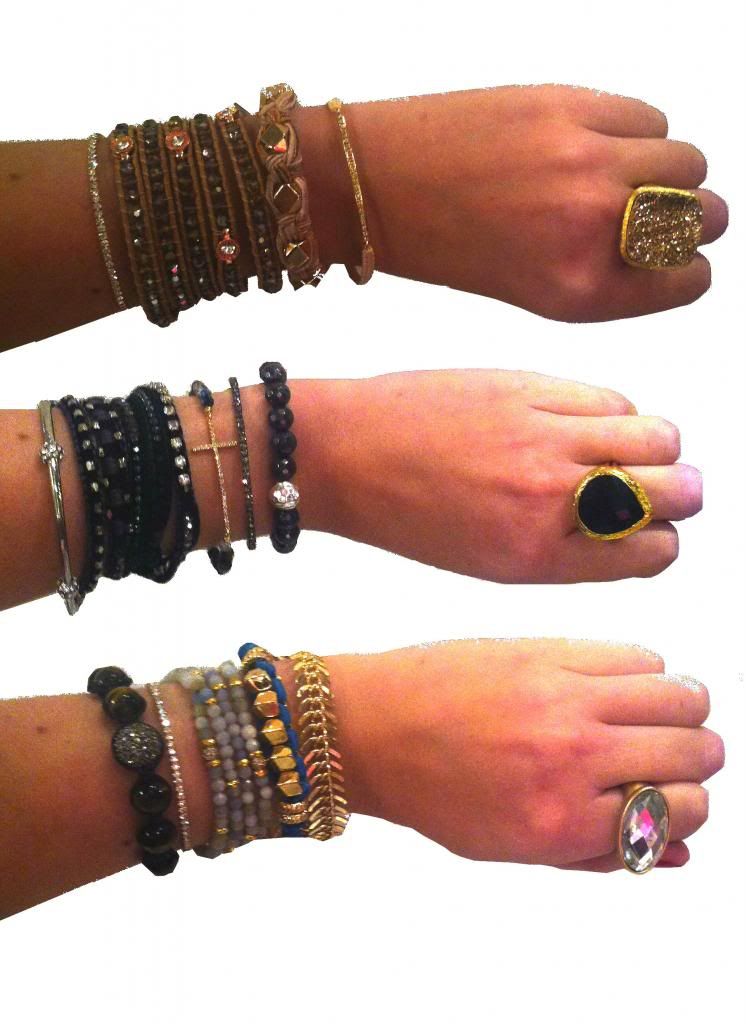 "Arm parties," "flare," "stacking…" there is quite the array of terms to describe weighing your wrists down with the latest "bling." We call it layering here at Zou Zou, and it's one of the easiest ways to dress up your outfit; not to mention, it's kind of a right of passage for up and coming fashionistas (reference: Leandra Medine of The Man Repeller.)

Rose gold recently re-entered the metal picture, and it is not in the form of your grandmother's butterfly brooch (i.e.: it's in now people. In, and looking glamorous.) It can be hard to tell what's acceptable to pair with it, but I find golds work best. Start with a bigger, central piece, (such as this Chan Luu wrap bracelet,) then build out from there. A dainty diamond bracelet here, a nugget-gold and hemp bracelet there. I also always prefer to finish the look with a complimentary, statement-making ring.
If you're going introduce a little bit of color to your layering, I find turquoise the best (and funnest) way to do so. Color also allows you to play with shape a little bit more: spikes, beads or fishtailed gold, if the colors are funkier, the total look can be too.
And finally my favorite way to layer bracelets: mixed metals in a sea of black. Once thought a big no, mixing gold and silver can be tricky, but when done right, it can look oh-so-chic. Make sure your central pieces have a mix of both metals, and then your smaller, single pieces can just be one metal (gold) or another (silver.)
What's your favorite way to layer your bracelets?!
PS: All bracelets featured are here and available at Zou Zou! If you see one you like, feel free to message us on Facebook and let us know what we can help you with 🙂